Friday, February 11, 2011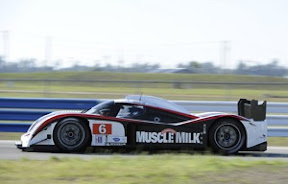 Muscle Milk Aston Martin Racing once again paced the field on the second and final day of the American Le Mans Series Winter Test at Sebring International Raceway today.
The Benicia, CA-based team completed a productive test in which it turned over 180 laps and set the quickest time in all four sessions, ending the day with Lucas Luhr registering a fast lap of one minute 49.997 seconds.
Having only received the car a month ago and with this test marking the first time the team took their Aston Martin LMP1 car out on track the results couldn't be more satisfying for the Greg Pickett led team.
The Muscle Milk squad was pleased with their progression as they improved their lap times in each session as drivers, engineers and crew continued to learn the intricacies of the car.
On day one, Klaus Graf put in a time of one minute 51.760 seconds in the morning, which was improved upon by Lucas Luhr in the afternoon with a lap at one minute 50.530 seconds.
Day two was more of the same with Graf posting a lap of one minute 50.340 in the morning and Luhr bettering with the fastest lap of the test.
While the Aston Martin powered team was the only one to post a lap time below the one minute 50 mark, Luhr, who will be joining the Muscle Milk team for the three major endurance races this season, wasn't the only driver to accomplish the feat.
Proving that the pair of Germans are a perfect match, Graf turned a lap of one minute 49.999 seconds in the final minutes of the two-day test, only three thousandths of a second off Luhr's pace.
Both Pickett and Graf will return to Sebring International Raceway on February 24 and 25 for a private test session ahead of next month's 59th Mobil 1 Twelve Hours of Sebring presented by Fresh from Florida, which takes place Saturday, March 19.
What they have to say:
Greg Pickett, driver and owner Muscle Milk Aston Martin Racing
"It was another good day for the Muscle Milk Aston Martin Racing team. We continued to learn things about our P1 car and I continued to get more and more comfortable with every lap, which is what we came here to do. I'm really satisfied with how everything went for our first time on track with the Aston Martin and I'm looking forward to getting back in the car again.
"As usual both Klaus and Lucas did a phenomenal job and how great was it that they nearly matched their best lap time with only a difference of three thousandths of a second. It just goes to show how good a driver pairing they are."
Klaus Graf, driver Muscle Milk Aston Martin Racing
"I think we achieved what we wanted to accomplish at the test. All three drivers got comfortable with the car and we gave Lucas a little bit more seat time because he won't be at the test in a couple of weeks. Greg came quickly up to speed as well.
"We became familiar with the car and we learned a lot and that was the main objective coming here. We finished every session on top of the charts which is satisfying and that's a good starting point going into the season, there's a lot of stuff to do still, it's a new package for us so there is a lot to learn and the guys will certainly have some long days ahead of them, just like they had long days here so thanks to them. They did an awesome job putting everything together for every session and they worked long hours. It just shows what good crew guys we have here.
"(About he and Luhr's fastest lap times) I think if we're that close to each other's lap times the rest of the season we can be really happy. It's good, it's fun."
Lucas Luhr, driver Muscle Milk Aston Martin Racing
"I think the test was as successful as can be in the sense that Brandon (Fry) our engineer and all the guys did the best we could possibly do with the components we had on hand for this test. For sure we still all have to continue learning the car and understanding it a little bit better but we have some good thoughts on how to improve it for the future. We made a lot of progress if you look at yesterday and then today. For the first time running, it shows that we are going in the right direction. For me, for the first time testing with the Aston Martin, I'm really happy.
"(About he and Graf's fastest lap time) As Klaus said it's always hard to compare lap times here at Sebring but I think if we're going to always be that close, it means we are a good fit. But the first priority is to do what's best for the Muscle Milk team and if it always turns out like this then I think everyone will be happy."