Thursday, February 10, 2011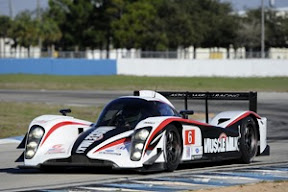 The Muscle Milk team had a trouble free debut with its Aston Martin LMP1 car on Wednesday as it topped the speed charts on day one of the two-day American Le Mans Series Winter Test at Sebring International Raceway.
The test marked the beginning of a new chapter for the Muscle Milk Aston Martin Racing team that took possession of its car only a month ago, but it also had extra significance for team owner and co-driver Greg Pickett who was returning to the cockpit of a prototype car for the first time since his crash at Mid-Ohio last August.
Aside from a handful of laps in the team's GT3 Cup Challenge car on Wednesday, Pickett had not driven a racecar since the testing incident.
Needless to say, the Trans-Am legend was anxious to get back on track and if there was ever any worry about his return behind the wheel, it was wiped away by seeing the huge smile on his face upon exiting the Aston Martin.
Before Pickett could get back behind the wheel however, his co-driver Klaus Graf was honored with being the first one to take the LMP1 coupe out on track. The German quickly took in his new racing environment and set the pace early on in the session, registering a time of one minute 51.760 seconds.
Although Graf sat atop the timing sheet following the morning outing, it was his countryman and teammate Lucas Luhr who placed the team at the top of the charts in the afternoon session with a lap of one minute 50.530 seconds.
Thanks to a successful and productive day, all three drivers combined to complete just over 110 laps around the 17-turn, 3.7-mile track while familiarizing themselves with their new ride and its air-conditioned closed cockpit environment.
The Muscle Milk Aston Martin Racing team will be back on-track from 8 a.m. ET until noon and from 1 p.m. to 5 p.m. ET on Thursday.
The 59th Mobil 1 Twelve Hours of Sebring presented by Fresh from Florida is set for 10:30 a.m. ET on Saturday, March 19. The race will be shown live and in its entirety on ESPN3.com and americanlemans.com starting at 10 a.m. ET. ABC will provide coverage from 12:30 to 2 p.m. ET on Sunday, March 20.
What they have to say:
Greg Pickett, driver and owner Muscle Milk Aston Martin Racing
"Getting back in the car was a lot of fun. I was fortunate enough in the last three, four months after I had healed up, to head back to the gym to get back in shape and I'm glad I did. These cars are physical to drive and you kind of forget when you're away from them a little bit just how fast things happen in them.
"I have to admit I was a little bit apprehensive in my first run but I felt much more confidant and better in my second run. I hadn't driven with Lucas before because he was replacing me at Petit Le Mans and he came up to me today and said he was really impressed by me, that he had never seen anything like it and coming from a guy like Lucas, that meant a lot to me.
"All in all we had a very strong day. We just kept making little changes and getting everybody use to it. The engine ran flawlessly today, all the systems worked perfectly and so we're very pleased with that. Our Aston Martin embedded technician, John Ogden, hats off to him because nothing went wrong and to our crew and engineering team who did a great job prepping the car for this first test. We probably ran as many laps as anybody and all three of us drivers got all the time we wanted. You can't have a much better first day. As for tomorrow we'll just keep pushing at it.
"(About the difference driving a coupe) This is a very comfortable car. It has a little bit more room particularly at the elbows, compared to the RS Spyder. It's also easier, I find to get in and out of. Our friend Jeff Mowins from Mark One Composites came out and did our seats and as usual did a fabulous job. Often you'll get out of the car and you have some aches and pains but it's not the case with us and this is a bumpy place. As for the visibility in the closed cockpit, I don't think it's a problem. And finally the air conditioning is great. It's the first time I've had it in a racecar. It's nice to feel the cool air on your face because it can get very hot in there."
Klaus Graf, driver Muscle Milk Aston Martin Racing
"It was very special this morning leaving pit lane for the first time. It's been a long off-season and once you receive the car at the shop everyone starts talking about this and that and how it's going to be but all the talking stops when you leave pit lane for the first time.
"I have to say I was very pleasantly surprised. The Aston Martin engine is phenomenal. The drivability, the shifting, everything was really, really nice. Even being in a coupe is not a problem at all. We thought about that differently to be honest.
"In an open cockpit car you are able to see around you, but in the coupe it's more like if you are looking through a tunnel. You see very well in front of you but there is a big block to the left and to the right where you don't see anything so that is the biggest difference.
"I don't mind that though, honestly, sometimes it's not such a bad thing if you don't see everything! One may look at these cars and think it might be a little claustrophobic but it's actually quite roomy inside.
"Overall it was a very productive day, in the end we're atop the charts so we couldn't ask for more. For me personally, it was also very nice to see how Greg got up to speed, how quickly he got back in the saddle, it was like he had never been out of the car. That was very impressive, I have to say."
Lucas Luhr, driver Muscle Milk Aston Martin Racing
"To be honest I was really surprised about how good the car handles. Plus, the view inside is not what one would think. The car is brilliant.
"We of course still need to tweak it and fine tune it a little bit to have it the way we want, but I think overall we had a really successful first day and I really enjoyed driving it, a lot. Just the sound is amazing. I had a lot of fun and I wasn't the only one. All three of us drivers really liked the car.
"Now as we move ahead, it's up to us to get use to it more and keep working on it. The guys did a great job as well. They were here really late last night and back up early this morning. I think they had only three hours of sleep so they're also a big part of this.
"I'm already looking forward to getting back in the car tomorrow."